Amber Purple Smear Sherlock
SK001
Sonny
Amber Purple Smear Sherlock
* No Filter No Photoshop *
This beautiful sherlock is created through the time honored glassblowing technique of silver fuming, invented by Bob Snodgrass, widely known as the Godfather of artistic hard glass in this country. Actual silver is melted into the glass. Fumed pieces are especially stunning because of how they magically reflect light. Look closely as light travels through the piece and watch all the colors shine through. This is definitely an attention getter.
Btw, the daylight photos were taken with just an LG V-20 cell phone and morning sun; no effects. Same pipe. How cool is that? We love good glass.

Proudly handmade in Asheville, North Caroline USA
Limited Quantity and Availability.

Note: This is a made-to-order art piece. Precise patterns and colors may vary, ever so slightly, due to the nature of glassblowing. And that's what makes yours one of a kind!
Dimensions: 7" x 2"
FREE SHIPPING in the Contiguous United States
* Does not include Alaska, Hawaii. Drop us a line here and we'll work it out.
Sign Up! The Smoke Signal!



Alerts on New Products
Invitation-Only Sales!
Monthly MYSTERY BOX GIVEAWAY! ($200 VALUE)
Click here
COLLAPSE
Meet the Artist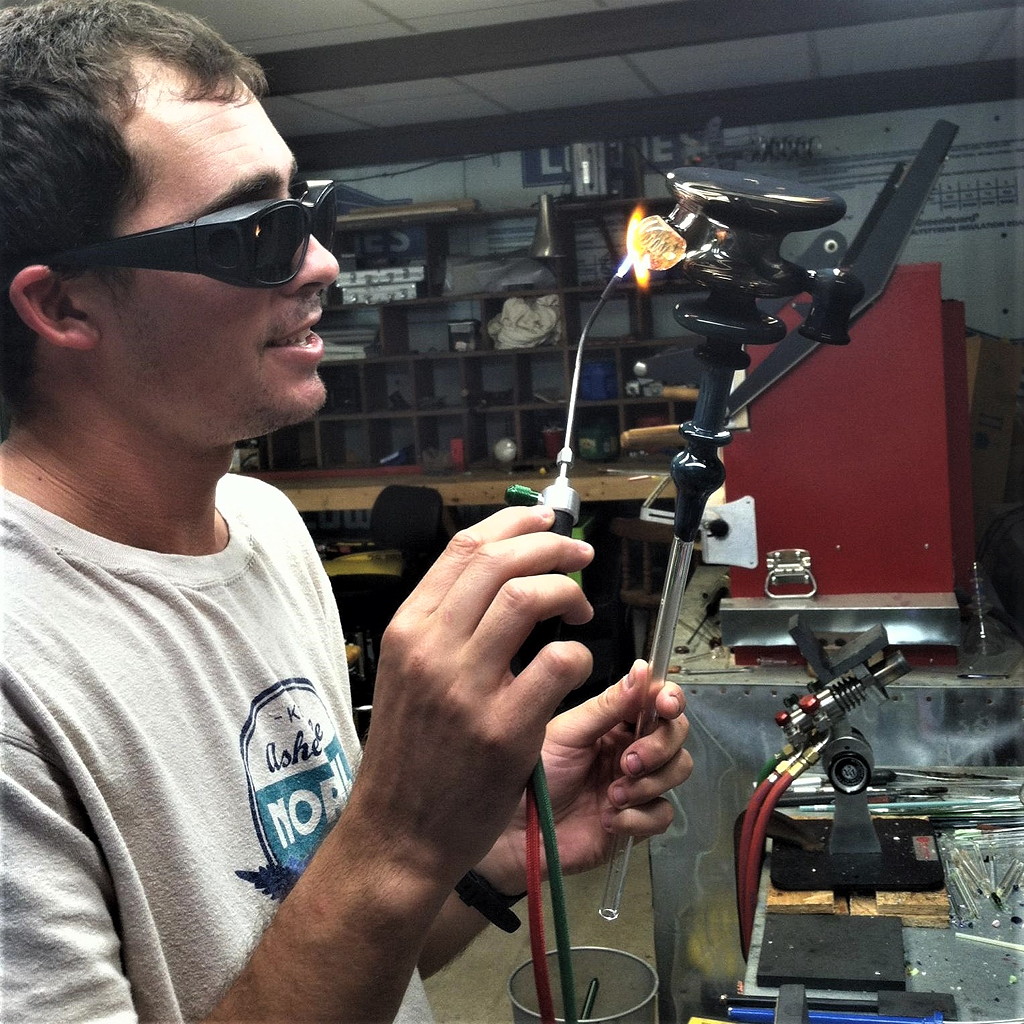 Sonny
Asheville, North Carolina
Q: How long have you been a glass artist?
A: 6 years
Q: How did you start?
A: Gnarly Harly showed me how to make an implosion pendant in 2012 and I was hooked from there, I took an apprenticeship in Asheville and the rest is history.
Q: What is your favorite style/ technique to use?
A: I enjoy using the wrap an rake technique, and I like making water pipes the most
Q: What other glass artists are your favorite(s)?
A: My favorite artist are gnarly Harly, Josiah Kelly, and aric Bovie to name a few.
COLLAPSE