Hilljack Peach Pink UV Spoon
HJUS028
Grady
Hilljack Peach Pink UV Spoon
* No Filter No Photoshop *
This pipe is a fun and brightly colored glass hand pipe, designed with a gorgeous pale but vibrant peach and yellow mixed flowered bowl design. U/V reactive colors that glow when underneath a light. This is a MUST HAVE pipe for your collection! Perfect for everyday use and an awesome way to show off your piece with the glow effects!
Proudly handmade in St. Louis, Missouri USA
Limited Quantity and availability.
Note: This is a made-to-order art piece. Precise patterns and colors may vary, ever so slightly, due to the nature of glassblowing. And that's what makes yours one of a kind!
Dimensions: 4" x 3"
FREE SHIPPING in the Contiguous United States
* Does not include Alaska, Hawaii. Drop us a line here and we'll work it out.

Sign Up! The Smoke Signal!
Alerts on New Products
Invitation-Only Sales!
Monthly MYSTERY BOX GIVEAWAY! ($200 VALUE)
Click here

COLLAPSE
Meet the Artist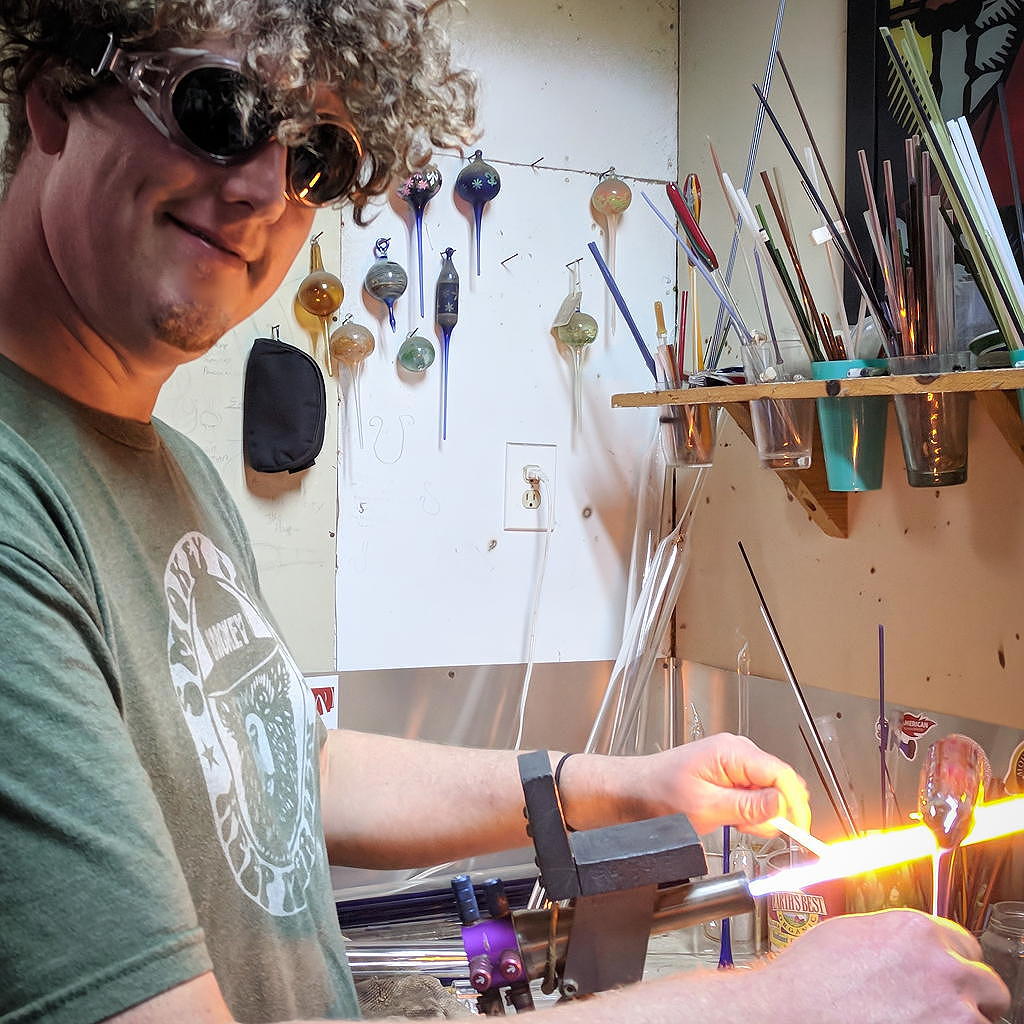 Grady
St. Louis, Missouri
Hilljackglass was founded on the hilltop of the middle-most point of the US. Owned and operated by Grady Breidenbach, Grady has had a passionate relationship with glass since he was young and though interests in the media included furnace working, fusing. And stained glass, in 1999 he was introduced to the world of borosilicate flameworking. He felt that there was a large open palette for innovation and a lifetime of possibilities. Hilljackglass provides its customers with a product that will stand the test of time. Using ultimate care in proper annealing procedures ensures that each Hilljackglass piece will be of unmatched thickness and durability. When away from the torch, you will most likely find Grady spending time with his three boys traveling, camping, or sharing the stage with various touring reggae groups.
COLLAPSE