Beto's Custom Swirl Sherlock
BET01
Beto
u201cThe old Lakota was wise. He knew that a manu2019s heart away from nature becomes hard.u201d

~ Chief Standing Bear
Oglala Lakota Tribe
Beto's Custom Swirl Sherlock
* No Filter No Photoshop *
This Sherlock features custom pulled lined tubing, layered stringer reticello and bow tie windows, all produced with American made glass. Look closely at the details and you'll find glass colors like steel wool, aqua azul, and peacock.
The photos have not been manipulated; the differences are due to lighting. We can sit and stare at Betos' pipes - turning them this way and that - for a very long time.
Proudly handmade in Flagstaff, Arizona
USA
Limited Quantity and Availability.
Note: This is a made-to-order art piece. Precise patterns and colors may vary, ever so slightly, due to the nature of glassblowing. And that's what makes yours one of a kind!
Approx Dimensions: 7" x 3"
FREE SHIPPING in the Contiguous United States
* Does not include Alaska, Hawaii. Drop us a line here and we'll work it out.

Sign Up! The Smoke Signal!
Alerts on New Products
Invitation-Only Sales!
Monthly MYSTERY BOX GIVEAWAY! ($200 VALUE)
Click Here
COLLAPSE
Meet the Artist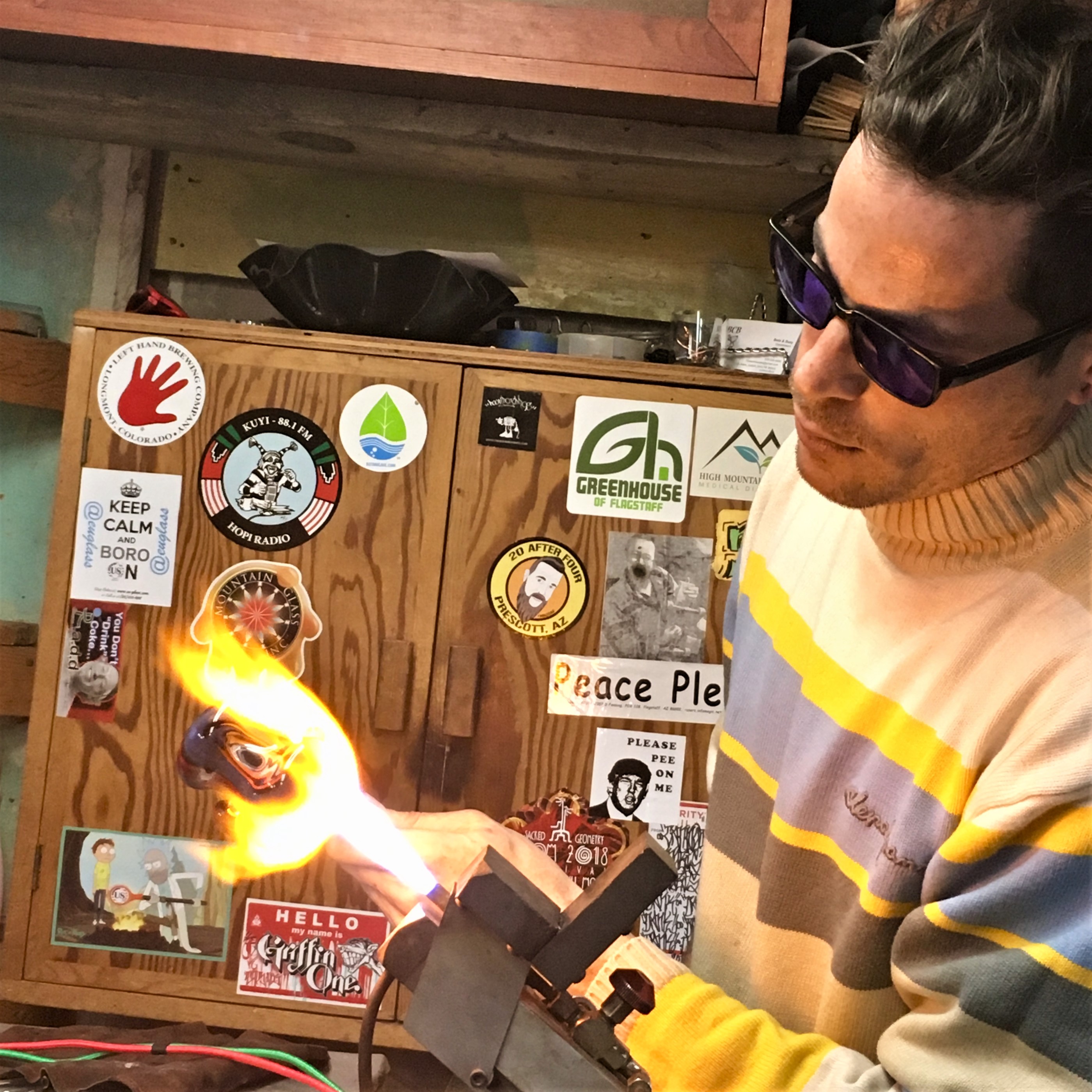 Beto
Flagstaff, Arizona

Q: How long have you been a glass artist?
A: Since Nov of 1999

Q: How did you start?
A: I started selling pipes for friends at a young age. I then later learned from a friend of mine at 19 yrs old. All the rest of my knowledge has been self taught and gathered along the way.

Q: What is your favorite style/ technique to use?
A: Ya know, this is really hard for me to pinpoint one particular style or technique. Thereu2019s so many amazing ones out there. My styles usually range from fume, line work, and multimedia techniques, such as sandblasting, electroforming and engraving, but there is so much out there for me to still learn and explore.

Q: What other glass artists are your favorite(s)?
A: This is actually pretty hard for me to say. I value all glass artists and there are so many with varying talent. My first experience with glass pipes was in the 90's in the northwest, so my first love was with gold and silver fume. Since then I have learned to appreciate all artists that have a vision or some sort of direction within their field.

Q: What inspires your work? Do you have any mottos you try to live by?
A: I used my own handmade tubing. And then it has line work, multiple sections and layers stringers which all went into the piece.
COLLAPSE