Roll UH Bowl - Smokey Bubbles Anywhere
RUB01
Roll UH Bowl
Roll UH Bowl - Smokey Bubbles Anywhere
We promise this is a game changer. Chugs hard with perfect restriction! Zero splash, even when overfilled! This foldable, food-grade silicone water pipe - made of the same material as baby pacifiers - is the perfect companion for all your outdoor adventures! Fold the Roll Uh Bowl in half, tuck the bowl and downstem inside and secure with the silicone band. Throw your portable piece into a backpack and hit the trails, slopes, beach or wherever your adventurous little hearts may take you.
Proudly made in the USA!
Let's see what Mountain Man had to say about it for Cannasseur Magazine


Includes: silicone body, alloy Eject-a-Bowl with roller ball downstem, silicone storage band.
Height: 8" when unfolded (Folded = 4" x 2")

9mm composite downstem with a stopper ball

Material: BPA-free grade V1 platinum cured silicone

Annodized alloy bowl, self ashing

Features: bendable, foldable, dishwasher safe

Drop us a line

here

to learn how to transform your Roll Uh Bowl into a dab rig.


Please note: the Eject-a-bowl and band colors may vary.
FREE SHIPPING in the Contiguous United States
* Does not include Alaska, Hawaii. Drop us a line here and we'll work it out.

Sign Up! The Smoke Signal!
Alerts on New Products
Invitation-Only Sales!
Monthly MYSTERY BOX GIVEAWAY! ($200 VALUE)
Click here
COLLAPSE
Apache Blaze
Roll UH Bowl - Smokey Bubbles Anywhere
5
1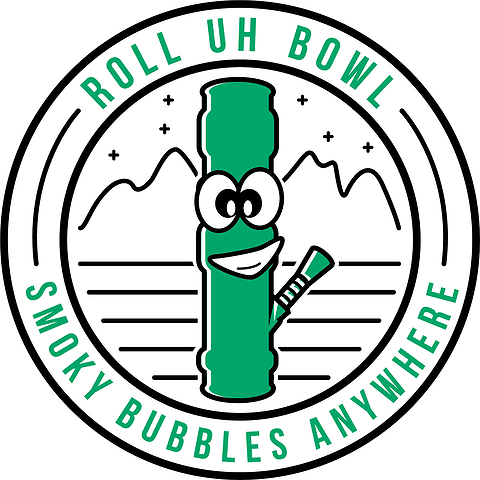 Roll Uh Bowl was created by Charlie McKay, a Montana native and outdoor adventure enthusiast. His outdoor lifestyle dictated a need for an all-around useful pipe that he could take anywhere. He needed something lightweight and unbreakable that wouldn't take up a lot of room in his pack, and so the Roll Uh Bowl was born.
Don't settle for a poor quality, imported, rip-off. Roll Uh Bowl has patents filed with the USPTO and is protected under USPTO patent and trademark law.
COLLAPSE