Fumed Disco Jar
FF02
Johnelle
Fumed Disco Jar
* No Filter No Photoshop *

Use these cool little blown-glass jars to stash your secret things! Qtips look great in them as well! Beautiful hand-blown glass jars done in fumed disco-drawing style. The colors you see on them are made with pure gold and silver! So pretty.
Proudly handmade in Fort Collins, Colorado USA
Limited Quantity and Availability.
Note: This is a made-to-order art piece. Precise patterns and colors may vary, ever so slightly, due to the nature of glassblowing. And that's what makes yours one of a kind!
Dimensions: 2.5" x 2.5"
FREE SHIPPING in the Contiguous United States
* Does not include Alaska, Hawaii. Drop us a line here and we'll work it out.
Sign Up! The Smoke Signal!
Alerts on New Products
Invitation-Only Sales!
Monthly MYSTERY BOX GIVEAWAY! ($200 VALUE)
Click here
COLLAPSE
Meet the Artist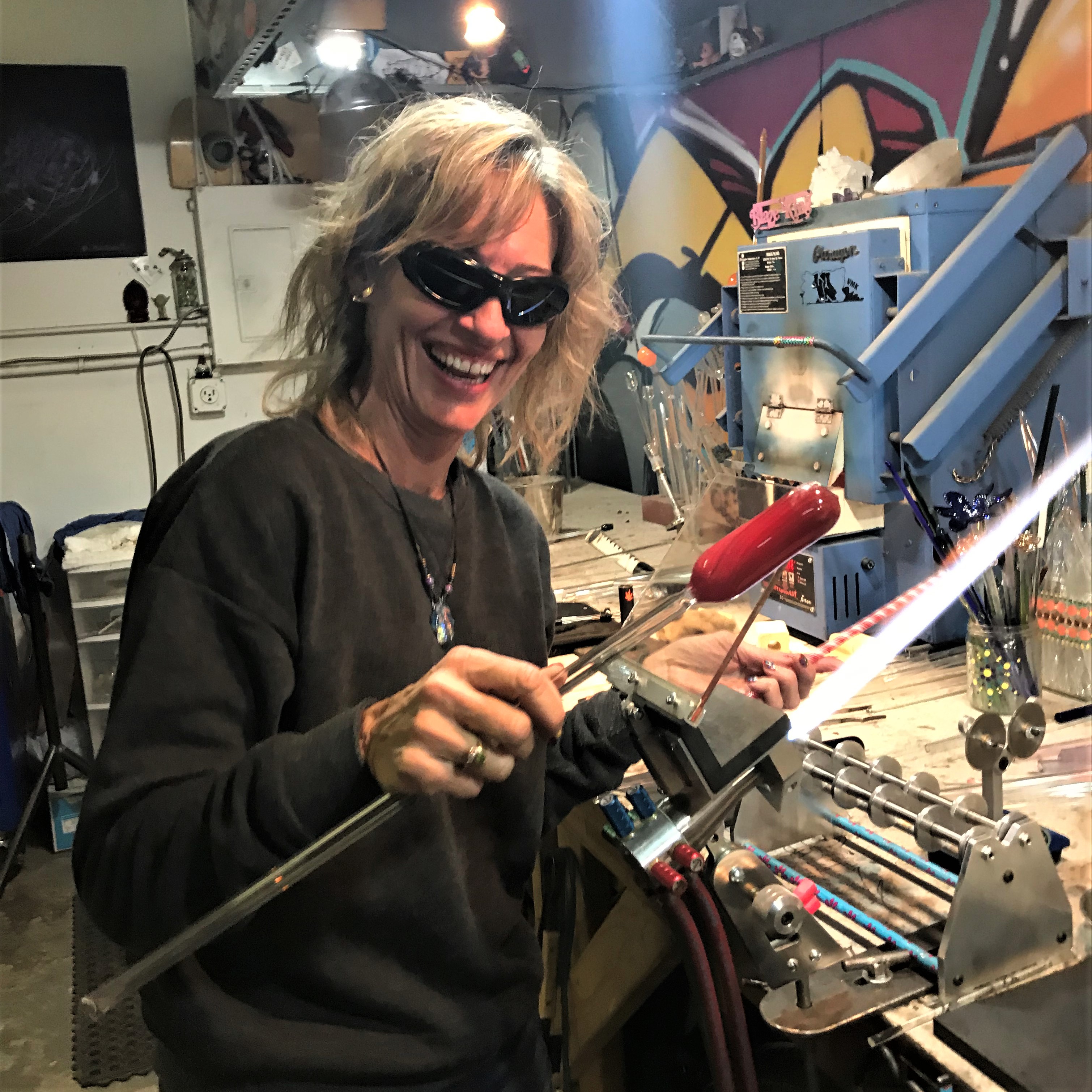 Johnelle
Fort Collins, Colorado
Q: How long have you been a glass artist?
A: Started blowing glass May of 2011
Q: How did you start?
A: I recently began to wonder. How did this happen? Was it the tiny glass animals I started to collect while living in Kaiserslautern, Germany at age 12? Would it have happened anyway that I found my way to glass? In my 20''s, stained glass captured my attention and colorful window panels filled my house and made for some great gifts. Next came mosaics and glass suncatchers, always adding a sparkle to the room. But it was the invention of GROUPON that got me blowing glass. A simple offer for a one-time class. Who knew it would change my life!? As I've learned the skill of re-shaping glass in three dimensions, the world seems to unfold before me. The opportunities to create seem endless. I have explored many, many ways to use glass in it''s various forms and continue to learn daily, never tiring of its endless possibilities. I hope you enjoy my quirky style, and that it may add beauty to YOUR life every day!
Q: What is your favorite style/ technique to use?
A: Metal fuming and sculpture are my favorite.
Q: What other glass artists are your favorite(s)?
A: Chihuly style large glass installations inspire me.
COLLAPSE