Krispy Illuminati Dabber
K402
Krispy
u201cWe do not want riches, We could not take them with us to the other world. We want peace and love.u201d ~ Chief Red Cloud
Krispy Illuminati Dabber
* No Filter No Photoshop *
We know you thought you had the romantic bases covered with your black light and glow-in-the-dark body paint... until you saw this. And because smart is hot, now you can explain how the color change is because of small amounts of uranium dioxide added to the glass in the melting process.
Approx Length: 6.5"

Proudly handmade in Lake Zurich, Illinois USA
Limited Quantity and Availability.
Note: This is a made-to-order art piece. Precise patterns and colors may vary, ever so slightly, due to the nature of glassblowing. And that's what makes yours one of a kind.
FREE SHIPPING in the Contiguous United States
* Does not include Alaska, Hawaii. Drop us a line here and we'll work it out.

Sign Up! The Smoke Signal!
Alerts on New Products
Invitation-Only Sales!
Monthly MYSTERY BOX GIVEAWAY! ($200 VALUE)
Click here
COLLAPSE
Meet the Artist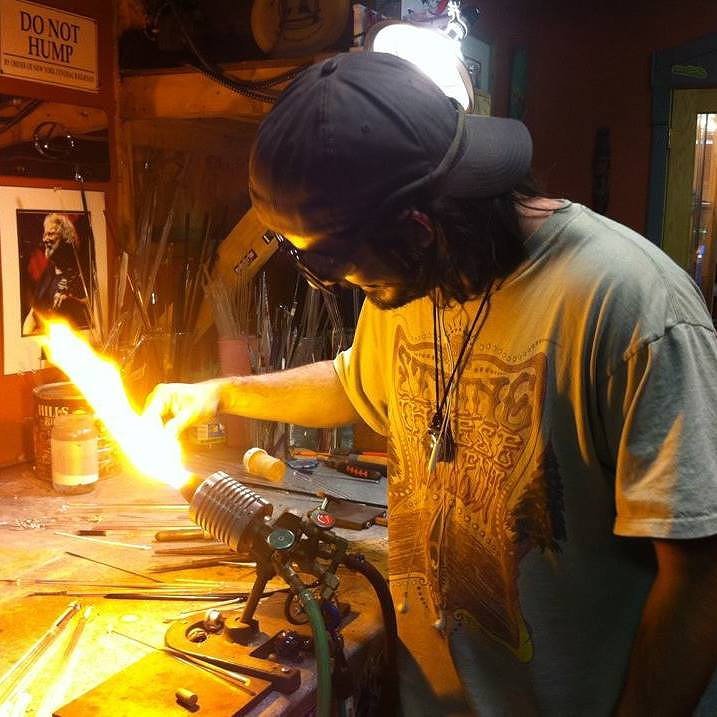 Krispy
Lake Zurich, Illinois
Q: How long have you been a glass artist?
A:I started in 2008 in Colorado. I moved back to my home town in Illinois in 2011 and began working in the scientific glass field for a few years and back to artistic glass.
Q: How did you start?
A: I first started by buying a cheap torch head and worked on a balcony in Frisco Colorado. It was a beautiful spot but not very practical. I then got an apprenticeship with ''Rone Glass'' in Denver. I worked with him for a year, where I learned all the fundamentals that have become the foundation of my career.
Q: What is your favorite style/ technique to use?
A: If I had to choose my favorite styles, I love wigwags, honeycombs and flip-disks
Q: What other glass artists are your favorite(s)?
A: I admire the work of Schmitz Glass , Rone Glass and Rosburg Glass.
COLLAPSE