Krispy Black Dabber
K401
Krispy
u201cEverything on Earth has a purpose, every disease a herb to cure it, every person a mission. This is the Indian theory of existence.u201d
~ Mourning Dove
Krispy Black Dabber
* No Filter No Photoshop *


Looking like the Mont Blanc of dabbers, the luxury is recognizable with this one.

For those who want a healthier, cleaner tasting option, a glass dabber is the utensil of choice. Thick and totally heat resistant.

Approx Length: 5"
Proudly handmade in Lake Zurich, Illinois USA


Limited Quantity and Availability.

Note: This is a made-to-order art piece. Precise patterns and colors may vary, ever so slightly, due to the nature of glassblowing. And that's what makes yours one of a kind!

FREE SHIPPING in the Contiguous United States
* Does not include Alaska, Hawaii. Drop us a line here and we'll work it out.



Sign Up! The Smoke Signal!
Alerts on New Products
Invitation-Only Sales!
Monthly MYSTERY BOX GIVEAWAY! ($200 VALUE)
Click here
COLLAPSE
Meet the Artist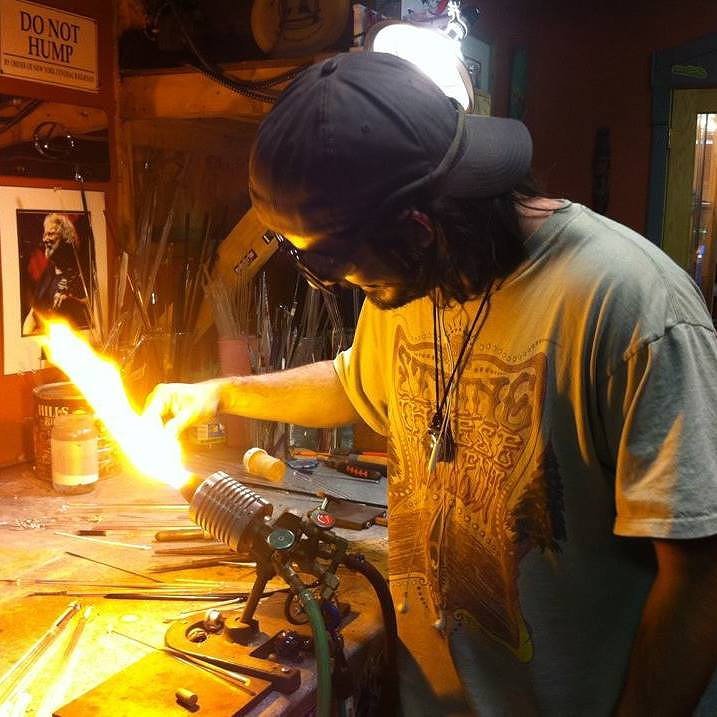 Krispy
Lake Zurich, Illinois
Q: How long have you been a glass artist?
A:I started in 2008 in Colorado. I moved back to my home town in Illinois in 2011 and began working in the scientific glass field for a few years and back to artistic glass.
Q: How did you start?
A: I first started by buying a cheap torch head and worked on a balcony in Frisco Colorado. It was a beautiful spot but not very practical. I then got an apprenticeship with ''Rone Glass'' in Denver. I worked with him for a year, where I learned all the fundamentals that have become the foundation of my career.
Q: What is your favorite style/ technique to use?
A: If I had to choose my favorite styles, I love wigwags, honeycombs and flip-disks
Q: What other glass artists are your favorite(s)?
A: I admire the work of Schmitz Glass , Rone Glass and Rosburg Glass.
COLLAPSE